Statistical Mechanics of Soft Matter 2019
The Sixth SM2 Meeting will be held at the University of Adelaide, December 16-17, 2019.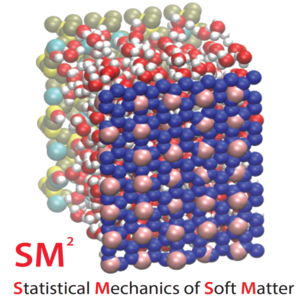 SM2 is a local discussion meeting on all aspects of the equilibrium and nonequilibrium statistics of condensed matter, from fundamentals to applications, relating to liquids, colloids, polymers, gels, biological molecules, liquid crystals and other forms of soft matter. The meeting will consist of a single stream of talks and a poster session.
SM2 will be followed immediately afterwards on December 18-19, 2019, by a statistical mechanics summer school.
Update (23/10/19): Abstract submission has closed! The draft schedule, and list of participants with titles and abstracts is now available on the programme page.
Registration
Registration is free. Please register at the SM2 registration page for the conference before 15 November. (Abstract submissions have now closed, but new participants are still very welcome to register.)
If you wish to be added to our mailing list please send an email to: smsq.meeting@gmail.com.
Note: whether you wish to register for both the conference and the summer school, or only the conference, or only the summer school, it is only necessary to submit the registration form once.
Summer School
The summer school will consist of lectures and hands-on workshops on theories and computational methods in statistical mechanics and is targeted at research students and postdocs. Registration is free. Please register at the SM2 registration page for the summer school before 15 November.
Wednesday Dec 18
Sessions I-II: Asst. Prof. Michael Grünwald (University of Utah) - Transition Path Sampling
Sessions III-IV: Prof. Peter Harrowell (University of Sydney) - Metastability and Crystallisation
Thursday Dec 19
Sessions I-IV: Prof. Ravi Jagadeeshan (Monash University) - Introduction to Polymer Kinetic Theory
The timetable for both days will be the same
| | |
| --- | --- |
| 09:00-10:30 | Session I |
| 10:30-11:00 | Morning tea |
| 11:00-12:30 | Session II |
| 12:30-14:00 | Lunch |
| 14:00-15:30 | Session III |
| 15:30-16:00 | Afternoon tea |
| 16:00-17:30 | Session IV |
Organisers
Local information
Venue
The meeting will be held at the North Terrace campus of The University of Adelaide, located within walking distance of central Adelaide.
Transport
From the airport, the University of Adelaide North Terrace campus is accessible by public bus (~$1-3; bus J1* or J2* from Stop 10 Adelaide Airport to Grenfell St), ride share or taxi (~$25).
Accommodation
A list of hotels, motels, and hostels, most of which are within walking distance of the University of Adelaide, can be found
here
.