Statistical Mechanics of Soft Matter 2018
The Fifth SM2 Meeting will be held at the University of Auckland on Thursday Dec. 6 and Friday Dec. 7 2018.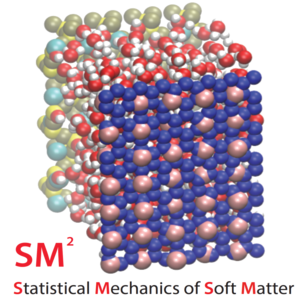 SM2 is a local discussion meeting on the theme of Statistical Mechanics of Soft Matter. The aim is to discuss fundamentals and applications of equilibrium and non-equilibrium statistical mechanics. We are particularly interested in computational statistical mechanics relating to simple and complex liquids, polymers, biological materials and other forms of soft matter.
The meeting will consist of a single stream of talks and a poster session.
Update (21/11/18): the timetable is now available on the programme page!
Update (27/11/18): A conference dinner will be held from 6.30pm Thursday December 6th at Ima Cuisine (https://www.imacuisine.co.nz/), 53 Fort St, which is a 10-15 minute walk from the conference venue. We have a $35 set menu so please bring this amount along in cash if you can. Any drinks are extra.
Registration
Registration and abstract submission are now open. Please register for the conference here before 1 November. If you wish to submit an abstract for a presentation at the conference please submit this here before 1 October. A preliminary conference programme will be released in mid-October.
If you wish to be added to our mailing list please send an email to: smsq.meeting@gmail.com.
Organisers
Local information
Venue
The meeting will be held on the City Campus of the University of Auckland, located within walking distance of central Auckland.
Transport
From the airport, the University of Auckland City Campus is accessible by bus (~ NZ$18 every 10-15 mins at peak times, see
https://www.skybus.co.nz/timetables
) or taxi (~ NZ$80). There are plenty of accommodation options within walking distance of the campus.
Accommodation
The following hotels are all within 15 mins walk of the University of Auckland campus and provide easy access to the restaurants of Queen Street, Britomart, or the Viaduct Harbour.
Other accommodation options can be found by searching for example on expedia, airbnb, stayz, wotif. Suburbs which are local (~ 30 mins walk) to the University of Auckland include Parnell, Newton, and Ponsonby.
Code of conduct
We are committed to the open exchange of ideas, the freedom of thought and expression, and respectful debate. These require a community and an environment that recognises the inherent worth of every person and group, that fosters inclusion, dignity, understanding, and mutual respect, and that embraces diversity.
For these reasons, harassment and hostile behavior will be unwelcome at SM2. This includes: speech or behavior (including in public presentations and on-line discourse) that intimidates, creates discomfort, or interferes with a person's participation or opportunity for participation in the event. SM2 will be an environment where harassment in any form does not happen, including but not limited to: harassment based on race, gender, religion, age, color, national origin, ancestry, disability, sexual orientation, or gender identity. Harassment includes but is not limited to: verbal comments that reinforce social structures of domination [related to gender, gender identity and expression, sexual orientation, disability, physical appearance, body size, race, age, religion, etc]; sexual images in public spaces; deliberate intimidation, stalking, or following; harassing photography or recording; sustained disruption of talks or other events; inappropriate physical contact; unwelcome sexual attention; and advocating for or encouraging any of the above behaviour.
It is the responsibility of the community as a whole to promote an inclusive and positive environment for our scholarly activities, but any participant who experiences harassment or hostile behavior may contact Shaun Hendy (shaun.hendy@auckland.ac.nz), who will usually be available at the registration desk in between sessions. Please be assured that if you approach us, your concerns will be kept in strict confidence, and we will consult with you on any actions taken.
Sponsors